Organic Hemp Seed Oil Pain Relief Anxiety Sleep Aid Mood Skin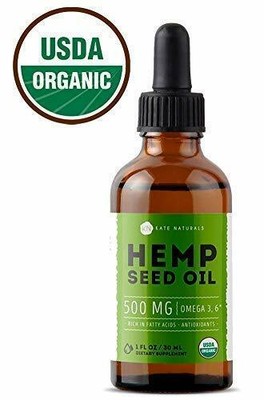 USDA CERTIFIED ORGANIC ORGANIC HEMP SEED OIL - Kate Naturals' Organic Cold Pressed Hemp Seed Oil is certified by USDA and is guaranteed to be authentic, pure, and natural. 100% Guaranteed Authentic or FULL REFUND.
DEEP RELAXATION - Promotes a restful night's sleep so you can feel super energized and positive the next day. This can help you put in a calmer mood and feel more relaxed
INCREASE FOCUS & ATTENTION - Hemp oil has been found to increase and boost the immune system as well has aide in focus and overall brain function. It can help increase focus and sharpen attention.
HELP REDUCE ANXIETY - Hemp seed oil can help with reducing anxiety and improving your mood to put you in a positive mindset. This can help reduce anxiety and nervousness.
100% GUARANTEE AND ONE YEAR WARRANTY - We aim to offer the highest quality and most authentic products. We guarantee your satisfaction. If you are not satisfied with your purchase, please return it for a FULL REFUND within 365 days. Add to Cart.
If you're looking for pure and high quality hemp seed oil, Kate Blanc's organic hemp seed oil is a Godsent.
Kate Blanc's organic hemp oil promotes restful sleep and better concetration. This helps calm your feelings and put you in a more energetic, positive mood.
Additionally, hemp oil stimulates brain health, improve memory and sharpen attention. This helps you stay focused and increase productivity.
Grab a bottle of Kate Blanc's organic hemp seed oil today to improve your mood and sleep quality.
Our facility is located in California and is a FDA Inspected and GMP Certified Facility. We comply with the highest manufacturing standards to ensure that all of our products are top quality.
100% Money Back Guarantee
If you are not satisfied with your purchase - for any reason at all - ask for a refund and your money is back in your account in 24 hours. No quarrels... no qualms... That's my promise to you.
Kate Blanc
Founder & CEO
Kate Blanc Cosmetics
Click Add to Cart and delight mood and concentration today.